Traffic Safety Facts 2007
Overview
Motor vehicle travel is the primary means of transportation in the United States, providing an unprecedented degree of mobility. Yet for all its advantages, deaths and injuries resulting from motor vehicle crashes are the leading cause of death for people of every age from 3 through 6 and 8 through 34 (based on 2005 data). Traffic fatalities accounted for more than 90 percent of transportation-related fatalities. The mission of the National Highway Traffic Safety Administration is to reduce deaths, injuries, and economic losses from motor vehicle crashes. Fortunately, much progress has been made in reducing the number of deaths and serious injuries on our Nation's highways.
In 2007, the fatality rate per 100 million vehicle miles of travel (VMT) fell to a historic low of 1.37. The 1997 rate was 1.64 per 100 million VMT. The National Occupant Protection Use Survey (NOPUS) reported a 82-percent seat belt use rate nationwide for 2008. Data has also shown an increase in the number of fatalities in alcohol-impaired-driving crashes from 12,757 in 1997 to 12,998 in 2007. However, much remains to be done. The economic cost alone of motor vehicle crashes in 2000 was $230.6billion.
In 2007, 41,059 people were killed in the estimated 6,024,000 police-reported motor vehicle traffic crashes, 2,491,000 people were injured, and 4,275,000 crashes involved property damage only. This overview fact sheet contains statistics on motor vehicle fatalities based on data from the Fatality Analysis Reporting System (FARS). FARS is a census of fatal crashes within the 50 States, the District of Columbia, and Puerto Rico (although Puerto Rico is not included in U.S. totals). Crash and injury statistics are based on data from the General Estimates System (GES). GES is a probability-based sample of police-reported crashes, from 60 locations across the country, from which estimates of national totals for injury and property damage- only crashes are derived.
NHTSA has recently redefined their motorcycle terminology. The following terms will be used to define motorcycle occupants: a motorcycle rider is the operator only; a passenger is any person seated on the motorcycle but not in control of the motorcycle; and any combined reference to the "motorcycle rider" (operator) as well as the "passenger" will be referred to as motorcyclists. Prior NHTSA publications may not reflect this terminology.
Summary
In 2007, 41,059 people lost their lives in motor vehicle crashes a decrease of 4 percent from 2006 (42,078). The fatality rate per 100 million VMT in 2007 was 1.37. The injury rate per 100 million VMT in 2007 was 83. The fatality rate per 100,000 populations was 13.61 in 2007, a decrease of 5 percent from the 2006 rate of 14.30. An average of 112 people died each day in motor vehicle crashes in 2007 one every 13 minutes.
In 2005, motor vehicle crashes were the leading cause of death for every age from 3 through 6 and 8 through 34.
Motor Vehicle Occupants and Nonoccupants Killed and Injured, 1997-2007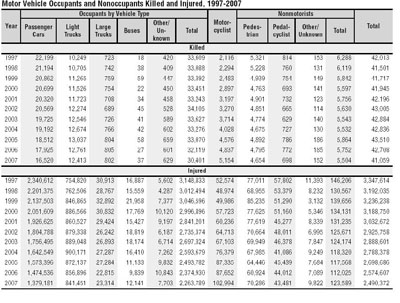 People Killed and Injured and Fatality and Injury Rates, 1997-2007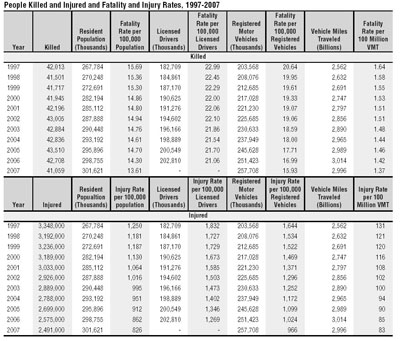 Vehicle occupants accounted for 74 percent and motorcycle riders accounted for 13 percent of traffic fatalities in 2007. The remaining 13 percent were pedestrians, pedal cyclists, and other non occupants.
Occupant Protection
In 2007, 49 States and the District of Columbia had seat belt use laws in effect. Use rates vary widely from State to State, reflecting factors such as differences in public attitudes, enforcement practices, legal provisions, and public information and education programs. From 1975 through 2007, NHTSA estimates that seat belts saved 241,789 passenger vehicle occupants age 5 and older, including 15,147 lives saved in 2007. If all passenger vehicle occupants over age 4 wore seat belts, 20,171 lives (that is, an additional 5,024) could have been saved in 2007.
In 2007, it is estimated that 382 children under age 5 were saved as a result of child restraint use. An estimated 8,709 lives were saved by child restraints from 1975 through 2007.
Children in rear-facing child safety seats should not be placed in the front seat of cars equipped with passenger-side air bags. The impact of a deploying air bag striking a rear-facing child safety seat could result in injury to the child. NHTSA also recommends that children age 12 and under sit in the rear seat away from the force of a deploying air bag.
In 2007, 33 percent of passenger car occupants and 37 percent of light-truck occupants involved in fatal crashes were unrestrained. In fatal crashes, 76 percent of passenger vehicle occupants who were totally ejected from vehicles were killed. Seat belts are effective in preventing total ejections: only 1 percent of the occupants reported to have been using restraints were totally ejected, compared with 31 percent of the unrestrained occupants.
Alcohol Impaired Driving Fatalities
Motor Vehicle Traffic Fatalities