Transport Safety

Rail Transport Safety

Road Transport Safety

Cycling health and safety tips

Child safety - bikes

Transport security And Saftey

Tips for Driving Safely through a Construction Zone

Traffic Saftey
Transport Safety - Rail Safety
Rail safety in Queensland is regulated by Queensland Transport. All railway managers and/or railway operators within Queensland are required to be accredited in accordance with the Transport Infrastructure Act (1994). This Act establishes the requirements for the management of rail safety in Queensland and was introduced to:
encourage competition and enable access to the network by other operators


provide a framework to allow effective and efficient management of infrastructure and rolling stock


introduce an accreditation system to maintain appropriate levels of safety in the rail transport industry.


Role in rail safety
implement strategic policy to promote, maintain and enhance safety


manage the rail safety database and data analysis


implement and manage safety accreditation schemes


audit rail safety systems


coordinate, review and, when appropriate, participate in incident investigations


develop and implement a level crossing safety strategy


as the competent authority for the transportation of dangerous goods by rail.



Transport Safety - Road Safety
Road safety continues to be one of the nation's most serious public health issues - it affects everyone, whether you drive, walk or cycle.
We all need to know how to take care of ourselves and respect others on the road. That's why we encourage everyone to get actively involved in understanding road safety. It is important to know:
how much (or how little) you can drink before you drive


the speed limits on your local streets


where you can stop, revive and survive on a long journey


how to teach young children road safety skills.
Whether you are new to driving, need to refresh your knowledge or even teach someone else road skills, this site will provide you with up-to-date information on road safety issues. Understanding and practising road safety is everyone's concern - it could save your life, or someone else's.
Campaigns
Road toll has improved over the past decades with the introduction of initiatives including the .05 blood alcohol concentration limit, random roadside drug and breath testing and compulsory seatbelt laws.
Regular research
We have established an on-going monitor of public perception and attitudes towards road safety issues. Regular surveys help evaluate the effectiveness of public education campaigns, as well as identify areas requiring further attention.
Benchmark research was conducted in 1997. Subsequent tracking surveys have been conducted periodically.
Public education campaigns
Our public education campaigns aim to put key road safety issues on the public agenda. Research results, together with other qualitative and quantitative data, are used to develop campaigns on a range of road safety issues.
Public education campaigns are grounded in social marketing principles. Social marketing promotes social causes or ideas within a society. Rather than trying to sell a product, we are selling road safety messages.
The content found by using this link is not created, controlled or approved by this department. No responsibility is taken for the consequences of viewing content on this site. This link will load into a new window.
Cycling health and safety tips
Cycling is a great form of exercise, and it's fun. There are lots of health benefits associated with regular cycling. Your cardiovascular fitness will improve and this means you'll lower your risk of heart attack and stroke. Pedalling is low impact, so you can improve muscle tone without stressing your knee and ankle joints.
Cycling is also a practical mode of transport. You could ride to work and not only reap the health benefits, but also save on petrol costs, public transport tickets and parking fees.
You might prefer to cycle for pleasure, by yourself or with family or friends, along some of Melbourne's 1,300 kilometres of bike paths. You could even take a bike-riding holiday.
If you're very serious about cycling, you could join one of the Victorian bike clubs and compete with other riders. The health and safety tips below will help you get the most out of your cycling and reduce your risk of injury.
Click here...
Things to remember
Wearing a helmet reduces the risk of head injury by up to 60 per cent.
Treat your bicycle as you would your car, and obey the road rules.
Boost your visibility on the roads by always wearing brightly coloured clothing, and by fitting your bicycle with lights for night riding.
Bike riding can be fun for the whole family but it needs to be enjoyed safely. Bicycle safety involves developing riding skills, wearing the right protective gear and looking after your bike. Parents should teach their children about cycling safety and caring for their bike.
Cycling safely
To help your child become a safe cyclist, let them have lots of practice on safe paths while offering tips on bike handling. Basically, they should be able to ride in a straight line, brake properly and corner safely.
Ride in designated areas such as bike paths when possible. By law, children can ride on the footpath up to the age of 12. Find out if your child's school offers Bike Ed, which teaches children about road safety and cycling skills.
Helmets are compulsory
It is compulsory to wear helmets when riding a bike in Victoria. This law applies on roads, bike paths, bike lanes, shared and also in all vehicle transport segregated footways, and other public places such as recreational parks and car parks. Make sure that your child always wears a helmet when riding.
Your child's helmet should be:
Approved - make sure the helmet carries the Standards Australia mark.
The right size and fitted correctly - the helmet should be comfortable and not too tight or loose. Caps should not be worn under helmets as they ruin the fit - wear a visor over the helmet to protect you from the sun. Choose a helmet that is not too heavy and provides good ventilation.
Positioned on the head properly - the helmet should sit level on the head, covering the forehead with the rim just above the eyebrows. The straps should be correctly adjusted and the buckle securely fastened. The straps should form a 'V' shape with the plastic strap guide sitting just under the ear lobe. The buckle should be close up under your chin.
Kept in good condition - if the helmet hits an object or the road, you should replace it. Don't leave a helmet exposed to direct sunlight when not in use, make sure the foam is not old and crumbling, and clean it according to the manufacturer's instructions.
Choosing a bike that suits the rider
Having the right size bike for your body plays a big part in safe cycling. A bike that's too big for your child is dangerous - kids don't 'grow into' bikes or helmets. To test for size, stand your child over the bicycle with both feet on the ground. For medium or lightweight bikes, there should be at least 2cm between the crotch and the crossbar (or where the crossbar would be if the bike had one). For BMX and mountain bikes, there should be at least 5cm between crotch and crossbar.
Make sure all controls are within easy reach and comfortable to use, and that the seat can be adjusted. If you buy a secondhand bike, make sure that it is serviced properly.
Using bicycle seats for children
Bicycle seats for children are becoming popular. To be safe, you need to:
Choose a seat with moulded leg supports (to protect the child's feet from spokes), head and neck support, feet straps and spoke shields.
Make sure it has a harness which is fitted securely each time you place the child in the seat.
Ride for short periods only, especially in hot weather. Use sunscreen and a hat for your child and take plenty of drinks.
Use seats only for children who are over 12 months of age and weigh less than 22kg.
Caring for your bike
You need to make sure that your bike and your child's bike are well maintained. Regularly check brakes, wheels, pedals, bearings and chains so that the bike will stop quickly in an emergency. Each time you ride the bike, check if the tyres are hard, if the brakes work and whether there are any rattles. Check the tyres, bearings, gears, nuts and bolts, and lubricate the chain and cables each week.
Keeping our public transport system safe
The July 2005 terrorist attacks in London showed that public transportcan be a terrorist target. All Australian states and territories have agreed on priorities for strengthening surface transport security. These include making the travelling public more aware of risks and avenues for reporting suspicious items or behaviour.
A public transport security package, initially focussing on south-east Queensland, to keep public transport safe. The package consists of:
a public awareness campaign


security programs for public transport and shipping operators and workers


independent risk reviews of public transport


consulting with peak bodies and unions to raise awareness.
The public awareness campaign started in south-east Queensland in September 2005. The campaign asked the travelling public to report suspicious items, or behaviour, to Auto transport staff or by calling the national security hotline on 1800 123 400f. The advertising campaign appears widely on buses, trains, ferries, bus stops, bus interchanges, train stations and ferry terminals, as well as in the Courier Mail and on television.
What is suspicious behaviour?
It depends on the circumstances, but it is a combination of where people are, when they are there, and what they are doing. Common sense will tell you. If something seems wrong, make the call. As the advertisements say, if something doesn't look or feel right, report it.
What happens when I call the hotline?
The call centre operator will help you to provide as much information as you can—detailed descriptions of people, places, vehicles and anything else that has made you think what you have seen is suspicious. You can remain anonymous, but if you at least give your phone number investigators can contact you for further information if necessary. Your information is passed to the Queensland Police and is kept strictly confidential.
Tips for Driving Safely through a Construction Zone
Speeding is Dangerous and Costly
To keep Ontario's roads among the safest in North America, please observe the lower speed limit and watch for highway workers. Ontario laws double speeding fines in construction zones when workers are present, as follows:
Km/h over posted speed limit
Fines for speeding in construction zones
Demerit points
10 km/h
$ 60
0 points
20 km/h
$ 180
3 points
30 km/h
$ 420
4 points
40 km/h
$ 560
4 points
50 km/h
$ 975
6 points
Did You Know...
Fines are now doubled for speeding in a construction zone when workers are present? You can also be fined up to $500 and three demerit points for not obeying the sign of the traffic control person.
Tips for Driving Through Construction Zones
Plan
Be aware of construction zones.
For current road reports, use the telephone numbers and website address listed on the back of this pamphlet.
Consider alternative routes.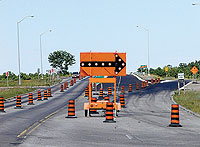 Drive Defensively
Expect the unexpected. Road surfaces and traffic patterns change frequently in work zones.
Anticipate detours and stops.
Obey All Signs
Signs contain important information that warns motorists or provides them with essential information about the work ahead, traffic conditions, road/ramp closures and detours.
Concentrate
Pay attention at all times. Don't be distracted by the radio or cell phones; don't eat or drink while driving.
Watch for workers, new signs, traffic signals, pavement markings, or uneven pavement.
Slow Down
Drive at the posted reduced speed limit.
Keep a safe distance between you and the vehicle in front of you.
Don't tailgate - sudden stops are common in construction zones.
Child Passenger Safety Program
Through education, training, enforcement, outreach and legislation, NHTSA seeks to ensure that all children ages 0-16 are properly restrained in the correct restraint system for their age and size every time they travel in a motor vehicle. While great progress has been achieved in recent years in preventing child occupant deaths and injuries, and increasing the correct use of child safety seats, booster seats and safety belts thanks in no small measure to the tireless dedication of NHTSA and its many partners in the child passenger safety community more work needs to be done to protect child occupants who remain at heightened risk.