Friday, August 21, 2009
Hartsfield Jackson Atlanta International Airport offers a new park –ride reserve lot, include the airport parking option.
This new excited parking option will prepare for the Labor Day holiday pleasure said Ben DeCosta, airport general manager. From this promotion it will help to service fast to the terminal.
Its have limited space like 1,300 for reserve members only. For this airport customers pay $12 a day. Airport will provide the shuttle bus also. For your comparison hour parking will charge $28, daily parking will charge you $14 and economy class will charge $10 per day.
For more details please visit the
bizjournals
.
Auto Transport News
and update please visit movetransport.com.
For more information
to enter, stop by Tony Stewart's No. 14 Old Spice/Office Depot Chevrolet Impala SS show car in the airport Atrium and fill out sweepstakes forms between 6 and 10 a.m. and between 4 and 8 p.m., seven days a week until Sept. 4.
Other Important Stories Related to Auto Shippers
Tips to effectively organize
car shipping
.
Basics of choosing an
auto Shipping
Company.
Labels: airport parking, Hartsfield Jackson Atlanta Airport, Labor Day holiday
posted by transport blogs @ 9:59 AM permanent link | Post a Comment | 1 comments
Thursday, August 20, 2009
The Black Hawk Helicopter from

Kentucky's Fort Campbell

was carrying the training exercise it will struck on mount Massive in the height of 14,200-foot and met the accident. During this accident two people was dead, other injured person are rushed into Denver Hospital.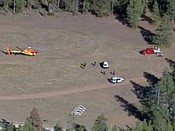 Leadville, a town with a population of 2,600, is about 80 miles southwest of Denver and is surrounded by peaks over 13,000 feet and by rugged wilderness areas.
For more Additional Information:United State Aviation Accident Details.
Labels: Kentucky's Fort Campbell, Military Helicopter Crash, Mt. Massive
posted by transport blogs @ 2:29 AM permanent link | Post a Comment | 0 comments