e-Passport gates at airport in Air Transportation
The 'biometric' passport will be able to save your time on arrival and departure at any one of these airports as you can avoid long queues for the standard passport check and get yourself on to your destination that little bit faster. Your biometric passport will have a chip inside, which contains your photograph and personal information and this will then be accessed by a computer and a camera that will work together to ensure that your face matches with the photograph that is on the passport. Major airports like UK have the ePassport gates to ensure that the border control queues are kept to a minimum and that agents are freed up for other important activities at the airport. E-passport gates are a secure and convenient self-service alternative to the conventional border control process.
Place your passport firmly on the scanner, ensuring the photograph is face down. If your passport is in a cover, please remove it before placing it on the passport reader.

When indicated, remove your e-passport and step forward into the booth, positioning your feet on the markings on the floor.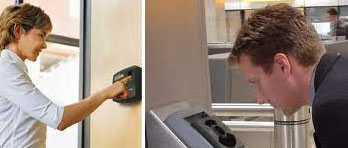 Remove your glasses and look straight at the camera - the booth will match your face to the photograph held in the chip in your passport. You can exit through the glass doors when they open.

If the system rejects you, please see the border officer at the desk that will provide a manual check.
This shows that the data is genuine and which country has issued the passport.

It is a 'chip protocol' that prevents the data being read without the passport holder's knowledge.

It is the digital technique that confirms the data on the chip was written by IPS and has not been changed.
Who can use the ePassport gates?
Biometric 'chipped' passports have this symbol.
You don't have to register to use the new ePassport gates.
You must however be a UK, European Union or European Economic Area citizen and have a 'chipped' biometric passport.
If you have a 'chipped' biometric passport it will have the symbol on the picture to the left and will have been issued from 2006 onwards.
You must also be 18years or above, unless otherwise stated on airport signs.
All passports now issued in the UK are 'biometric'. Biometric details are those which are unique to you – like your fingerprint, the iris of your eye, and your facial features.
Which airports have e-passport gates?
E-passport gates are in operation at the following UK airports:
• Birmingham International
• Bristol
• Cardiff
• East Midlands
• Gatwick north terminal
• Gatwick south terminal
• Heathrow terminals 1, 3, 4 and 5
• Luton
• Manchester terminals 1 and 2
• Stansted